If you don't know, Chemex is an 80-year-old coffee brewing method. Since then, this traditional process has gained more popularity among coffee lovers. You will find aesthetic beauty as well as easy functionality in Chemex. But while having a chemex, you face a problem finding which one is the best chemex for you. You may need help deciding what size chemex you should get and what is best for you. 
Let's talk in detail about different chemex sizes and find the best chemex size for your needs.
Chemex Size in Nutshell:
The Chemex coffee maker comes in five different sizes to suit every individual's personal preferences. The sizes are 3-cup, 6-cup, 8-cup, 10-cup, and 13-cup. This variety of sizes offers many possibilities that make this product beneficial and perfect for a different range of persons and users. These coffee makers are not only aesthetically beautiful but also highly functional and easy to use which fits every kitchen.
What is Chemex?
If you are going for your first Chemex coffee maker, then it's better to get acquainted with this product. Actually, Chemex is not your average coffee brewer. It's a memorable pour-over coffee maker with an elegant glass design and wooden handle.
Though Chemex may not appear to be something special at first look it has a long history. Chemex was invented in New York City way back in 1941. The inventor, Dr. Peter Schlumbohm was a chemist who wanted to create a coffee maker that was both attractive and functional. And that led him to the final design of Chemex, patented to his name. As well as the Chemex filter which was created by him and patented.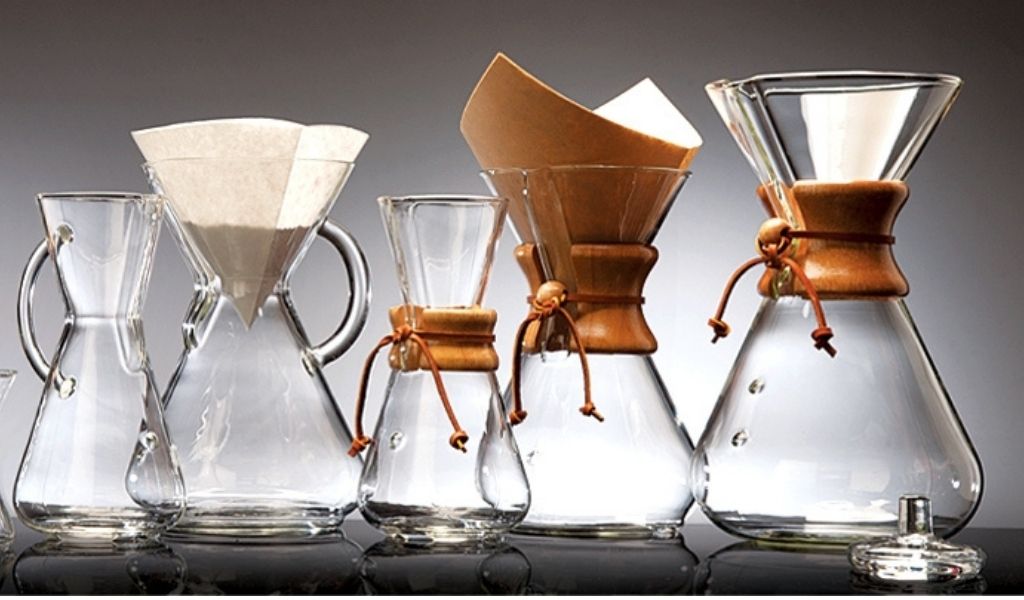 The main flask of Chemex is made of glass and shaped like an hourglass, with a neck collar that's heatproof. This collar might be made of wood or glass. All glass Chemex brewing machines is dishwasher-safe, and safe whereas wooden one is not. And the glass is shaped in such a way that the filter fits properly.
Unlike other coffee brewing methods like the French press, Chemex is a pour-over coffee maker. It works when hot water is poured over ground coffee, allowed to drip through the filter, and then collected to make a cup of coffee.
Different Types of Chemex
Chemex Coffee is available in different series, but three series are more famous. The Classic, the Glass Handle Series, and the Handblown Series Let's talk more about each of these series.
Classic Series Chemex Coffeemaker
The classic series features wooden collars with a leather tie encircling the collar. The leather tiem keeps the collar secure.
The body of Classic Chemex is made with borosilicate glass. It gives the brewer chemical residues and reduces odor absorption. It permits you to refrigerate your coffee with this maker, though you will need to reheat your drink.
In the Chemex Classic Series coffee maker, the wooden collar is not dishwasher-safe. So, you will have to remove the tie and split the collar so that it comes off and you can wash it by hand.
Glass Handle Series Chemex Coffeemaker
The entire body of the glass handle coffee maker is made from glass. Like the classic series wooden handle, you won't have to care about this all-glass Chemex maker. So, the Glass Handlee series is rather self-explanatory. Like the rest of the body, its handle is made with double-borosilicate glass. You can also safely refrigerate the glass handle series, like the classic series.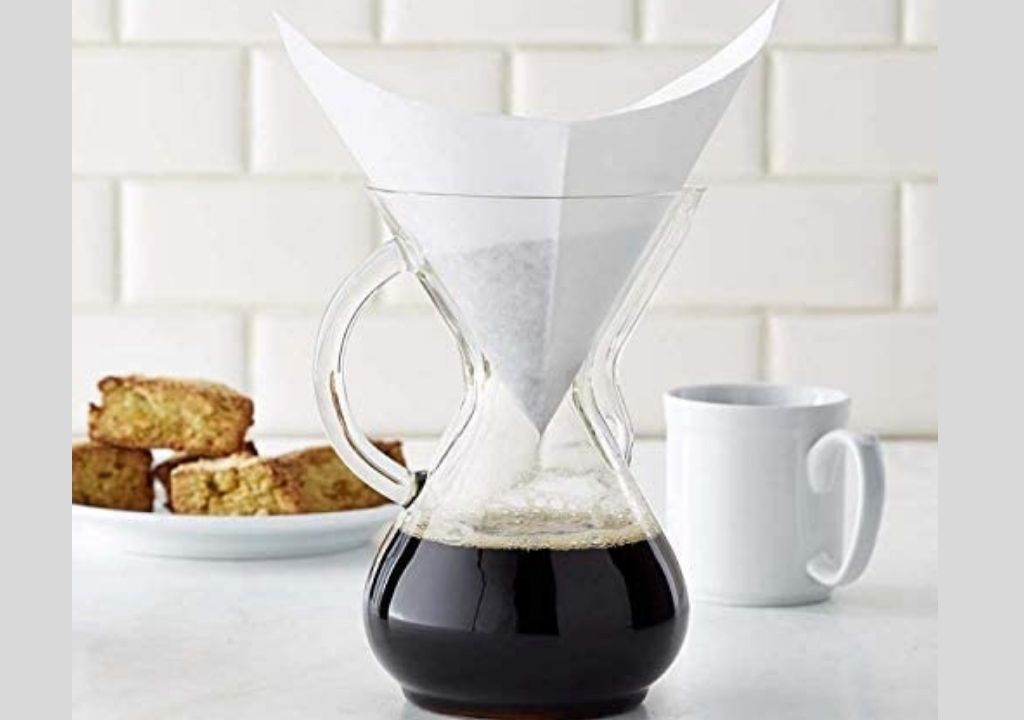 Handblown Series Chemex Coffeemaker
As the name suggests, each coffee brewer of this series is blown by hand. And like all other best Chemex series, this series uses borosilicate glass that originated in Croatia. 
It's normal that a hand-blown coffee maker will take more time and precision to make than other types of coffee makers. So, very few numbers of handblown chemex brewers are produced. Like the classic series, a polished wooden collar is used in this series.
Which Chemex sizes are available and which are the best?
Chemex coffee makers are available in a variety of sizes. Mainly, it comes in five different sizes to suit every individual's preference. 
3-Cup Chemex: 1 pint or 473 milliliters
6-Cup Chemex: 30 ounces or 887 milliliters
8-Cup Chemex: 40 ounces or 1182 milliliters
10-Cup Chemex: 50 ounces or 1489 milliliters
13-Cup Chemex: 65 Ounces 
3-Cup Chemex Coffee Maker: Best for a single person
This is the smallest and easiest Chemex coffee brewer. Most commonly, it's used as a single-serving coffee maker. 
Its small size makes it easy to use and more portable than other versions. So, you will not find any hindrance to using this one.
Now let's talk about the storage capability. An average cup of coffee is 8 fluid ounces. As mentioned before in this best Chemex review, a Chemex 3 Cup can make 473 milliliters of coffee, which is approximately 15.99 ounces. So, you can get the highest two full cups of coffee at one time from Chemex 3-cup. 
When it comes to affordability, 3-Cup is the most affordable one. So, if you want a single-serve, small, affordable, easy-to-handle coffee brewer, then you can go with the Chemex 3-cup.
6-Cup Chemex Coffee Maker: Best for Couples or small family
Then comes the Chemex 6-cup brewer. It's double in storage as the 3-cup version but a little smaller than its Big Brother Chemex 8-cup. 
Typically, you can brew 40 ounces of coffee at a time using this version. So, while considering a cup of coffee with 8 ounces, you will get almost 4 cups of coffee at a time. That's 2 cups of shorts, as the advertisement or name suggests. 
If your family has weekday morning coffee drinkers at home, this size will be very helpful. You won't need to brew a fresh pot every time. 
This six-cup has a diameter of 4.25 inches and a height of 8.6 inches. It's also easy to handle as the size isn't too big, and except for the whole wood collar, the brewer is dishwasher safe. 
So, if you want a coffee brewer for your small family that's easy to handle, you can go with this 6-cup Chemex version.
8-Cup Chemex Coffee Maker: Average size and Most popular
This is the most common and popular size brewer of chemex. The reason is that it's a perfect combination of capacity, affordability, and ease of use. It's perfect for any average household.
With a diameter of 4 ¾ inches, this coffee maker can brew 40 ounces of coffee at a time. As one cup of coffee contains 8 ounces you can make a total of 5 cups of brewed coffee with this version. Or you can make the highest 6 cups with this size. So, considering capacity it is a little larger than the 6-Cup version.
Its shape makes it ideal for multiple coffee drinkers or those who like extra coffee in their morning joe. Or if you want to have an entertaining cup of great coffee with your whole family this is the best choice as its generous capacity allows you to serve between 5 to 6 cups without refilling it.
You can also refrigerate chemex 8 cup brewer if you want but you will need to heat the coffee again.
So, overall if you ask What size Chemex is best for my average-sized family? The answer is the 8-Cup chemex version.
10-Cup Chemex Coffee Maker: A little larger than average
It's the larger brother of a 6-cup and 8-cup, chemex maker. Normally you can brew 50 ounces and serve between six to eight cups of coffee depending on how strong you like your coffee.
For most people, a coffee maker that can make about 4 cups of coffee at once should be more than enough. But if you are a coffee addict or love your coffee strong and black it is a great option. Moreover, if you are in a coffee where you're in charge of making coffee then 3 or 4 cups at a time probably won't cut it. For those purposes, you can consider this higher-capacity chemex.
With the larger size, this brewer needs a little extra care to handle. And like the other size described in this best chemex coffeemaker size guide, you can store your brewer in the refrigerator if extra coffee is left.
If your whole family loves to have more coffee than average or if you have a larger family than average then you can go with this 10-cup Chemex brewer.
13-Cup Chemex Coffee Maker: Perfect for large family or office
Are you looking for a giant-sized Chemex brewer?
Then the 13-Cup Chemex is the perfect fit for you. With a capacity of 65 ounces, this coffee brewer is sufficient for a very large family or office.
One specialty of this 13-cup chemex is that like the other 4 chemex sizes of this best chemex size review, this 13-cup chemex doesn't belong to the classic series. This Chemex brewer belongs to the Handblown Chemex series which is the premier series as mentioned before in this Best chemex size guide.
The good thing about the size of this brewer is that it's beneficial for those with multiple coffee drinkers at home. You can make eight to ten cups of coffee at a time which is enough for a large family. Or if you want to make coffee for office members it's also a good choice.
You can also refrigerate this brewer and only hand wash the maker.
So, if you want a large chemex coffee maker for your large family or office you can consider this one.
what size chemex should I get? What Chemex size is best?
After this whole discussion about Chemex sizes if you still ask What size chemex should I buy? The answer will be, If you are a single serving or want to make coffee for a single person then you will want to use the 3 cups Chemex. If you want to brew coffee for more than one person or for an average family then you should use 6 or 8 cups of Chemex. But if you have more than five cup coffee drinkers at home, opt for either the 10-cup or 13-cup chemex maker. 
FAQ
1. What is the standard Chemex size?
The 8-cup Chemex stands as the quintessential, standard-sized brewer in the Chemex lineup. Its prevalent popularity can be attributed to its well-balanced dimensions, striking a harmonious blend of height and width. The tall yet not overly so structure, coupled with a wide opening, enables the container to be filled to the brim of the cone without any spillage.
With a generous capacity of 40 ounces, this 8-cup Chemex maker facilitates the brewing of 5 cups of coffee, making it the go-to standard size for an average family's coffee needs.
2. Which Chemex size is best for a single person?
3 cup Chemex brewer is the perfect coffee maker for a single person. It has a capacity of 2 cups of coffee. So, if you are the only coffee lover in your family or you want a coffee maker for one person then a 3-cup chemex is a better option. So, it's a single-serve coffee brewer.
3. How to clean a chemex coffee maker?
Different Chemex series prefer different washing and cleaning techniques. The classic handblown series features a wooden handle or neck that is not dishwasher-safe. So, you have to hand wash that series brewer. But the Glass Handle series has an all-glass body design, and they are totally dishwasher-safe.
4. How tall is an 8-cup Chemex?
The 8-cup chemex has a height of 9 inches and the diagram is 5.35 inches. It's the average size for a chemex brewer.
Conclusion
From this whole best chemex coffeemaker size guide you may have got a clear idea about different sized chemex coffee brewers. Actually, all of the chemex brewers are the perfect combination of aesthetic beauty and proper functionality.
Moreover, It's perfect for entertaining a single person to a large gathering where many people are expected to drink coffee. From a single-serve 3-cup size to a large family size 13-cup and average 8-cup chemex size, you will have a perfect one for your purpose.