Are you looking for a perfect-sized chemex coffeemaker? If you are looking for a small or medium-sized chemex coffee maker then you may face difficulty to choose between 3 cups and 6 cups of chemex.
Actually, Chemex 3 cups and 6 cups are the two most famous sized chemex coffee makers. The 3-cup version is the smallest chemex has a capacity of 16 ounces and the 6cup Chemex can brew up to 30 ounces of coffee at a time.
In this Chemex 3 cup vs 6 cup article, we will go through the similarities and differences between these two versions of chemex coffee makers.
Comparison Table: Chemex 3 cup vs 6 cup
If you are in hurry then before going through this whole Chemex 3 vs 6 cup you can go through this quick overview and comparison table.
| | | |
| --- | --- | --- |
| | Chemex 3 Cup | Chemex 6 Cup |
| Building Material | Borosilicate Glass | Borosilicate Glass |
| Storage Capacity | 16 Ounces | 30 Ounce |
| Cup of Coffee (8 ounces per cup) | 2 cups | 4 cups |
| Perfect for | One or two persons | Small Family |
| Hight | 8 ¼ inches | 8 ½ inches |
| Diameter | 3 inches | 5 ⅛ inches |
| Cleaning | Hand washes preferred | Hand wash preferred |
| Available Series | Chemex Classic, Full Glass, Handblown | Classic, Full Glass, Handblown |
| Price | Check Price on Amazon | Check Price on Amazon |
Differences Between Chemex 6 cup vs 3 cups
You may have already got a brief idea about the differences between 3 cup vs 6 cup chemex. Now let's go through a detailed comparison.
Differences 1: Storage Capacity
As the name defines capacity or storage is the main difference between these two coffee makers.
Using the 3-cup version one can brew 15 to 16 ounces of coffee at a time. And generally, the average cup of coffee is made of 8 ounces o fluid. So, you can make 2 full cups of coffee at a time using the 3 cup chemex. That is one cup less than the name suggests.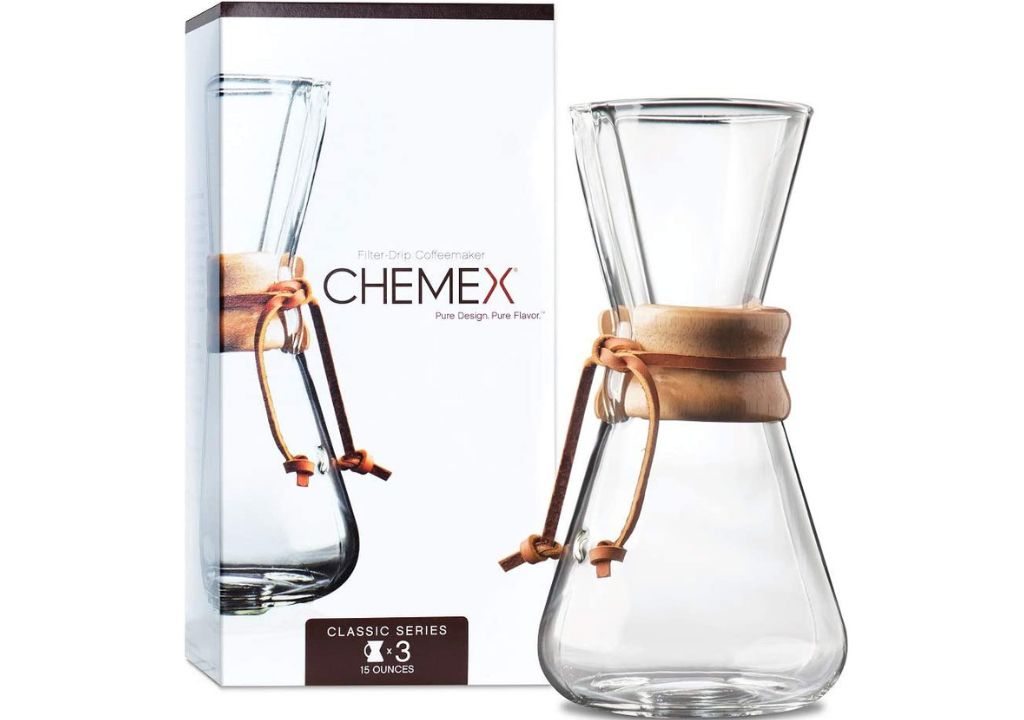 On the other hand, the 6-cup version has an almost double capacity of the 3-cup version. That means this coffee maker can brew 30 ounces of coffee in one brew. And it is a total of almost 4 cups of coffee actually that is 2 cups shorter than the name 6 cup chemex.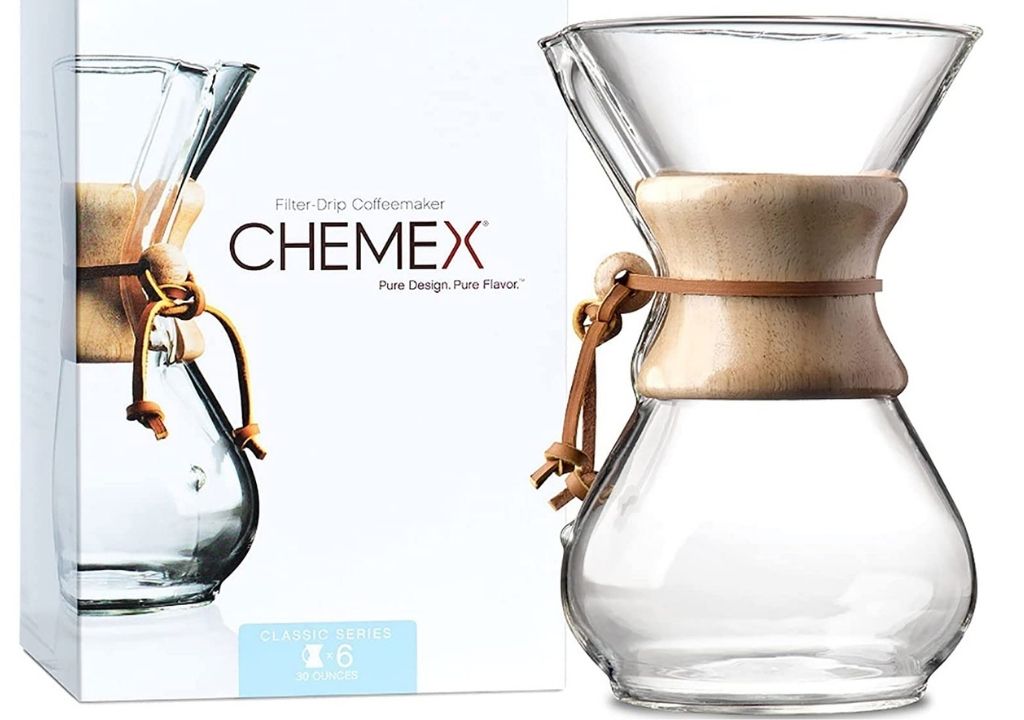 Differences 2: Size
It's normal that as capacity these two chemex versions will have different sizes and diameters. From the dimension to the height the 6-cup version is larger than the 3-cup version.
The 3-cup chemex is 8 ¼ inches long and the diameter is 3 inches.
Whereas the 6 cup version has almost the same height as the 3 cup which is 8 ½ ". But there is a noticeable difference in the diameter. The 6-cup version has a diameter of 5 ⅛ inches.
Differences 3: Perfect user
Before buying any chemex the question may arise in your mind is this the perfect size for me or my family?
In the case of these two chemex versions, the answer is if you are the only coffee lover in your family or if you want to buy a chemex for two people then the 3 cup version is a perfect option. Because you can brew only a full two cups at a time that is perfect for a couple.
On the other hand, If your family has weekday morning coffee drinkers and few members of your family love coffee every morning then the 6-cup version will be very helpful. You won't need to brew a fresh cup of coffee every time for every single member. That's why if you have a small family of 2 to 4 people, think about this 6 cup chemex as mentioned before 3 cup vs 6 cup chemex.
Differences 4: Style
In different chemex series, you will find differences in design and style though the core structure and build are the same.
In both 6-cup and 3-cup chemex, you will find a wooden handle with a leather rope that keeps the handle more tightly together. As well as other features are almost the same. But in 3-cup chemex, you will see the coffee maker looks slimmer whereas the 6-cup version has a larger diameter and wide design.
Differences 5: Price
Another important factor to consider while comparing is the price. Which one is more affordable? Chemex 3 cup or 6 cup?
Actually, classic chemex is not a very overpriced coffee brewer but you will also get limited editions that are pretty expensive.
Generally, teh 3-cup chemex costs around 40 to 42 dollars. Then comes the 3cup Handblown limited edition chemex that will cost you around 108 to 110 dollars on average.
On the other hand, the 6-cup version has an average price of 46 to 48 dollars. But if you want to have a limited edition hand blower version that it will cost over 110 to 120 dollars.
Differences 6: Easy to Handle
Actually, all chemex brewers are very easy to handle and brew. Because Chemex features a very simple structure. And the largemouth of chemex brewers helps to use the water flow through grind coffee you wish.
But if you go for an exact comparison between Chemex 6 cup vs 3 cup then 3 cups are easier to handle as it has a smaller size. So, you can use it more easily. But the 6 cup also features a standard size so it's not actually hard to handle. This version is also quite easy to use.
Similarities Between 3 cup and 6 cup chemex
We have already gone through the differences between Chemex 3 cup vs 6 cup, now let's talk about the similarities.
Similarities 1: Build Material
Almost all of the chemex features the same build material that is non porous Borosilicate Glass. This type of glass is made with silica and boron trioxide.
Borosilicate glass is known for its low thermal expansion and can withstand heat changes better than ordinary glass. That's why it is a stronger option for any glassware like a hot coffee maker.
Similarities 2: Appearance ( Aesthetic Appeal)
Are you really conscious about the look and beauty of your kitchen? Then the chemex can be a great addition to your kitchen. Functionality with beauty makes chemex a beautiful art. Both chemex 3 cups and 6 cups feature an aesthetic appeal. So, it can be a suitable gift for your coffee lover friend.
Similarities 3: Durability
THe main building material of chemex brewer is borosilicate glass. And like most other glassware glass-this glass is not unbreakable. But this borosilicate glass used in chemex is more durable than most other ordinary glass as already mentioned in this Chemex 3 or 6 cup review.
Moreover, this makes the chemex more thermal shock resistant. So, this type of glass is also used in high-end restaurants and laboratories.
Similarities 4: Brewing Process
The Chemex coffee brewing process is almost the same for all versions of chemex. So, there is no actual difference between chemex 6 cups and chemex 3 cups. The process is
Grind your coffee: Select your favorite coffee bean and grind it to a medium-coarse ground.
Filter up: Open a chemex filter paper and give it a cone shape. Then place The cone side of chemex paper filters with a three-layer that should cover the pouring spout.
The scoop: Put one rounded tablespoon of ground coffee into the filter for every 5 oz. cup of coffee.
Let it bloom: Put a small amount of water over the coffee grounds to wet them and wait for 30 seconds for them to bloom.
Fist pour: After the bloom slowly pours the hot water over the coffee ground.
Brew on: Then pour the remaining hot water over the ground using a circular back and forth motion.
Toss the Filter: Once your desired amount of perfect coffee is brewed lift the coffee filter and discard.
Enjoy a Perfect Cup: Pour your freshly brewed coffee into a mug and enjoy.
Similarities 5: Cleaning and Care
As already mentioned in this Chemex 3 cup vs 6 cup comparison, the cleaning and caring process are the same for both of these chemex. And proper caring is important for chemex so that it can offer fresh coffee each time. The whole glass body is dishwasher safe except for the wooden handle. And the step-by-step cleaning process is:
After every use let the chemex cool down properly.
Then disassemble the chemex.
You can use dish soap and water to scrub the full glass body.
To clean the inside of the chemex use water-vinegar solution and scrub inside properly.
Finally, rinse with soap and water to remove any strong smell.
Conclusion
If you have gone through this whole Chemex 3 cup vs 6 cup comparison you must have got a clear idea about the differences and similarities between 3 cup and 6 cup chemex versions.
In terms of the brewing process, durability, and build material these two are almost the same. But the main differences come in terms of size, storage capacity, price, and ease of handling.
If you want a coffee maker for one or two-person then you can go with 3-cup chemex as you can brew two cups of coffee at a time. On the other hand, if you want a coffee brewer for your small coffee lover family then the 6-cup version is for you because you can brew almost 4 cups of coffee at once.
When it comes to the price the 3-cup version is a little more affordable than the 6-cup version, it's normal as the 3-cup version is smaller than the 6-cup version.
Other Articles: